Hasegawa explained UN mission leader needs to be "a right person at a right time" to help national and community leaders change their mindsets and building peace.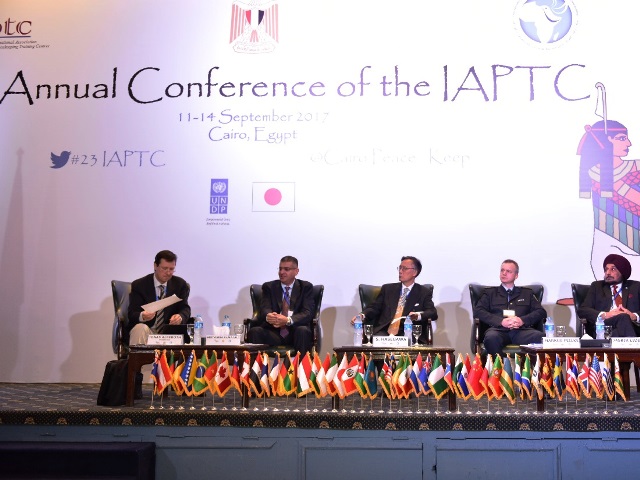 Professor Sukehiro Hasegawa, President of Global Peacebuilding Association was one of the four persons who spoke at a plenary session on " the mission leadership competencies, development and performance" moderated by Mr. Jonas Alberoth, Deputy Director-General, Folke Bernadotte Academy (FBA). Three other experts were Brig. Gen. Dr. Mutasem Almajali, Assistant Inspector General, Public Security Directorate (PSD), Jordan who spoke about Police Leadership: Competencies and Development for Enhanced Performance; Chief. Suptd. Markus Feilke, Department of Police Training and Advanced Training, Federal Police Academy, Germany who identified Soft Skills – Training and Development for Leaders (Pedagogical Perspective) and Lt. Gen. (Ret) Jasbir Lidder, Former Deputy Special Representative of the Secretary General, United Nations Mission in Sudan (UNMIS) who explained leadership Skills and Training for Contemporary UN Peacekeeping.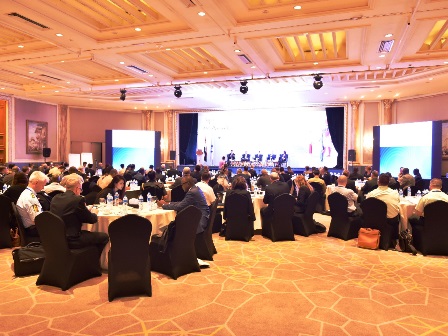 In his presentation, former SRSG Hasegawa informed the participants that seven SRSGs served UN mission in Timor-Leste. These Mission leaders were right persons at right place at right time. SRSG Sergio de Mello was an exemplary model who spoke language people understood. All except one were professionals who rose rank within the UN system. They were actively engaged in interactive communication and dialogue with not only mission staff but national leaders and people. They respected national leaders and understood their aspirations, and helped them to avoid civil war by explaining that in democracy the national leaders can continue as political leaders even if they lose their government positions. The Prime Minister may lose his position one day, but may come back to become a Prime Minister again in democracy.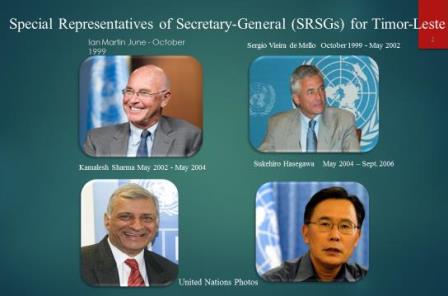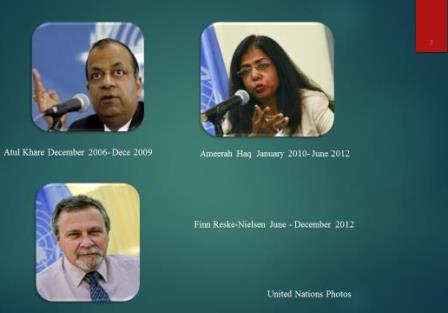 The most important accomplishment of the UN mission leaders was to help national leaders to recognize the need for changing their and people`s mindsets. Senior mission leaders need not only courage, vision and integrity but also humility and ability to inspire their staff and others concerned with mission manade implementation. They must be able to engage in interactive communication with not only mission staff but also national community, tribal, ethnic and religious leaders. They should be able to see what is happening in a multidimensional and holistic manner including conscious and unconscious aspects as well as rational and irrational aspects of human behavior.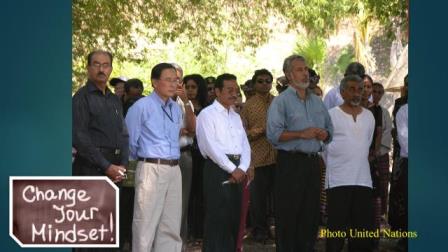 Ability to gain the trust and confidence of national leaders and enable them to change their mindsets and shift their paradigms. Ability to rise above their national interest in conduct of mission assignment and forge common interest and team work among mission staff. As Chinese philosopher Sun Tzu said, the mission leaders must be able to know their counterparts and themselves well enough to compete and cooperate productively.