本年6月26日に開催されたCCCPA諮問委員会では、元東ティモール国連事務総長特別代表で日本国際平和構築協会の理事長である長谷川祐弘教授が議長を務め、メアリー・チェーネリー・ヘッセ元国際労働機関(ILO)事務局次長、モナ・オマール元外務次官、アリー・エルフファンアラブ諸国連盟顧問兼カイロのアメリカン大学教授が出席した。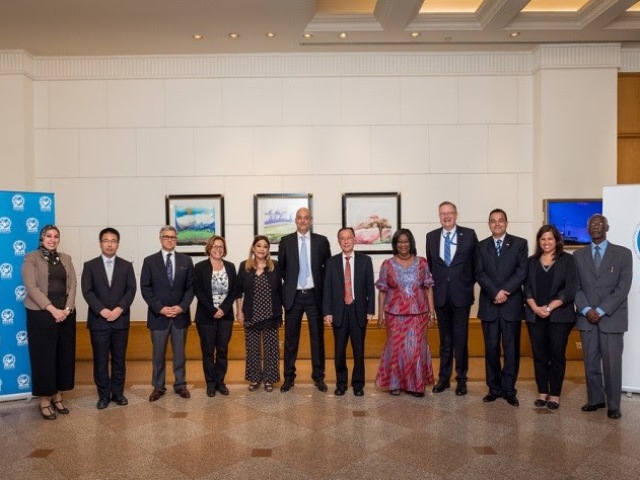 In the press release No.17 of CCCPA, the International Advisory Board (IAB) of the Cairo International Center for Conflict Resolution, Peacekeeping and Peacebuilding (CCCPA) held its third annual meeting on June 26, 2018. The meeting was chaired by Professor Sukehiro Hasegawa, former Special Representative of the UN Secretary General to Timor-Leste and President of Global Peacebuilding Association of Japan, and attended by Ms. Mary Chinery-Hesse, former Deputy-Director General of the International Labor Organization, Ambassador Mona Omar, former Assistant Minister of Foreign Affairs, and Ambassador Aly Erfan, former advisor to the Secretary-General of the League of Arab States and Professor of Practice at the American University in Cairo. The meeting was also attended by representatives of CCCPA's partners, including H.E. Ambassador Jan Thesleff Ambassador of Sweden to Egypt, Mr. Richard Dictus United Nations Resident Coordinator and UNDP Resident Representative in Egypt, Ms. Randa Aboul-Hosn UNDP Country Director, and Col. Nozomo Shimizu, Defense Attaché of the Japanese Embassy in Cairo.
 CCCPA's Director, Ashraf Swelam, highlighted the latest major developments since the last board meeting in 2017, including: a) the Prime Ministerial decree in June 2017 to establish the Center as an independent public entity, and expanding its substantive and geographical mandate, b) assuming the Presidency (2017-2018) and Secretariat of the International Association of Peacekeeping Training Centers (IAPTC) (2017-2022), and c) assuming the chairmanship of the Integrated Disarmament, Demobilization and Reintegration Training Group (IDDRTG) (2017-2019).
 Director Swelam also presented the Center's activities during the last year in the areas of: peacekeeping, peacebuilding, preventing radicalization and extremism leading to terrorism (PRELT), women peace and security, and combating human trafficking and smuggling of migrants. This was followed by an open discussion among the Board's members. The discussion focused on consolidating the institutional growth of the Center, expanding its international outreach and strengthening cooperation with regional institutions, such as the League of Arab States and the African Union. The board stressed the need to create opportunities for cooperation with the private sector and academic institutions. Members of the board also agreed to continue to engage in the activities of the Center throughout the year.
 CCCPA's IAB is a group of eminent global personalities and leading experts in the field of peace, security, and development. It provides CCCPA's management with strategic counsel on global and regional challenges and opportunities to peace security and development. Other members of the board include: H.E. Amr Moussa, Secretary-General of the League of Arab States (Chairman of the Board), Mr. José Ramos-Horta, former President of the East Timor, H.E. Jean-Marie Guéhenno, former UN Under-Secretary-General for Peacekeeping Operations, and Mr. Youssef Mahmoud, former representative of the United Nations Secretary-General in the Central African Republic and Chad.