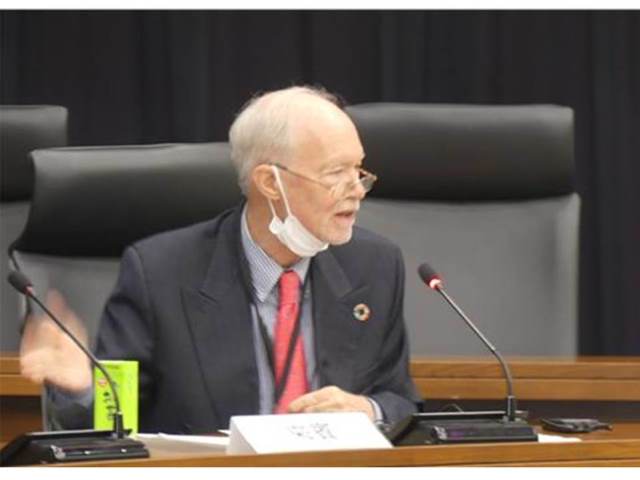 David Malone, Rector of the United Nations University and Under-Secretary-General of the United Nations, gave the keynote speech. Mr. Malone drew a parallel between the UN emerging after World War II as a replacement of the League of Nations, and Japan replacing the failed leadership of the country in the same time period. Dr. Malone noted that Japan and the UN are co-timed projects and since joining the UN, Japan has made substantial contributions to the UN. It has also aspired to host one of the UN's specialized agencies and programs in the environmental or educational sectors. For Dr. Malone, Japan's willingness to do so demonstrated how serious Japan took its membership. In fact, the development of the United Nations University benefited tremendously from the generosity of Japan, building its headquarters building right in Tokyo.
 Mr. Malone went on to state that most UN activities cover a full range of human endeavors starting from the post-World War II. He noted that one of the most powerful bodies in the UN became the Security Council. Despite its failures over success, it has gone to be the most connected organ of the UN. He further discussed the representation of states in the larger body of the UN. The Security Council and the General Assembly are all part of the general structure, which have complexities of their own. He noted that it took a long time for global development, as well as economic and social development to evolve into central objectives. In fact, the colonial powers had no intention to decolonize. However, shift in government after Churchill, brought acceleration. In fact, between the years of 1945 – 1965 almost all of the developing societies became independent. Development projects, policy and social development also became central objectives. At the same time, while developing countries in South and East Asia were trying to figure out a path for development, Japan's post war reconstruction was directly connected to economic development efforts.
 As the framework of these advancements, the Sustainable Development Goals framework was evident and when established, this platform made it possible for ambitious goals to emerge. He stated, "it has been an exciting process to watch these goals emerge and witness the approaches of different countries to financing development." Early on there was recognition that development assistance was important. But, the principal drive of development became the mix of domestic resource and remittance of workers from abroad. Dr. Malone noted that trade was also a significant force in development. In line with 2015, trade opened up an era of more sensible less confrontational discussion about development. However, an area that is often forgotten, which the UN has operationally been the most successful in, consists of humanitarian action and coordination of international actors. There are many actors providing humanitarian assistance yet could be more effective. This is a pillar of the UN today yet it does not attract enough attention. Finally, human rights are a key dimension to development. The leadership of some of the most important states has become more authoritarian, which has created authoritative governments and systems, yet Japan is an example of a state that has continued to adhere to strong human rights standards.
 Dr. Malone incorporated climate change in this larger discussion urging action on climate change "before it is too late." He noted future generations could be wiped out by climate change. Though the science is clear on what we are experiencing as a society, it will become worse. He recognized that the UN has not been able to be as effective in this area because members states continue to argue with one another about who should be responsible for the financial costs. Dr. Malone suggested this should stop and noted that the Paris Accord in 2016, when created, was not followed by effective actions. In fact, it was followed by the argumentation of why states are not responsible to pay more or less. Despite this, the Japanese parliament can set a good example of how a parliamentary forum could build a space to begin dialogue that pushes this conversation forward instead of bringing it back to the national implications of climate change. Nonetheless, he acknowledged that climate change was a huge challenge that the current generation needs to tackle efficiently. He stated, "it is great to commit to goals but one thing can be certain is that they will not be achieved unless we change our behavior now." He concluded his remarks by stating that a forum can be both useless and useful. Therefore, building action is what is needed. He referenced Dr. Sukehiro Hasegawa as one central actor in Timor-Leste, who pushed for change however, when applied to our current context, leadership and resources are lacking for developing countries to do what is needed. Thus, he expressed his hope to discuss such an issue a decade ahead and witness the action take place.