In plenary sessions, Professors Hoshino of Osaka University and Kihara-Hunt of Tokyo University joined Hasegawa in making presentations at the Plenary Sessions on the Role of the UN in the Future of the Korean Peninsula, Promotion of Human Rights in Humanitarian Crises.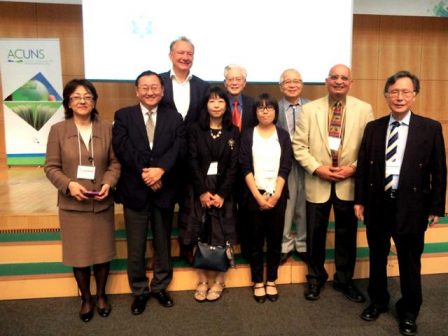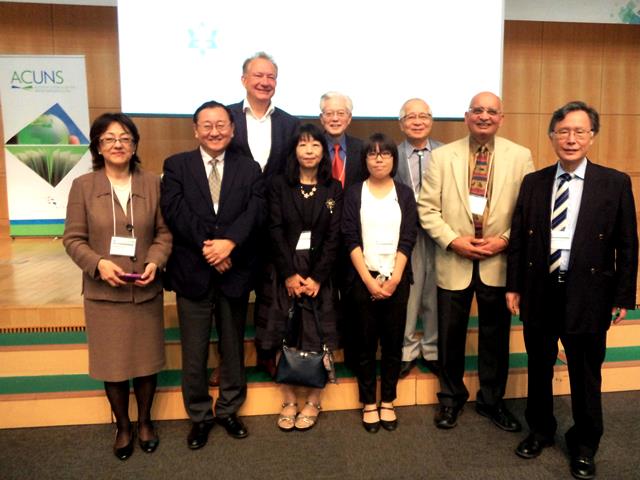 Plenary meeting program
---
THURSDAY, JUNE 15, 2017
 8:00 am        REGISTRATION   Location: Centennial Hall, 2nd Floor
 9:30 am – 10:30 am  OPENING CEREMONY
             WELCOME REMARKS
Hyun In-Taek, Former Minister of Unification; Chairperson of Local Preparation Committee
Lorraine Elliott, Chair, ACUNS; Professor, Australian National University
             KEYNOTE ADDRESS
"Saving Multilateralism in a Unilateral World"
Han Seung-Ju, Former Minister of Foreign Affairs
 10:30 am – 11:00 am  COFFEE BREAK
 11:00 am – 12:30 pm  PLENARY I
ACUNS at 30: Retrospect and Prospect
Moderator: Kyu-dok Hong, Professor, Sookmyung Women's University
Panelists: Lorraine Elliott, Chair, ACUNS; Professor, Australian National UniversitySukehiro Hasegawa, President, Global Peacebuilding Association of JapanCharlotte Ku, Professor of Law, Texas A&M University School of LawRamesh Thakur, Director, Centre for Nuclear Non-Proliferation and Disarmament, Crawford School, Australian National University
 In his presentation, Professor Hasegawa first explained how the three Asian academic councils emerged. Japanese and Korean academic councils established in the late 1990's. Japan Association for the UN Studies (JAUNS) and the Korean Academic Council on the UN System (KAKUNS) held its first seminar first in Seoul in 2001 and In 2010, the UN Association of China sent a delegation to Seoul where KACUNS. China established the Chinese Academic Net for United Nations Studies (CANUNS) and joined formally in the Asian Seminar on the UN System held in Osaka, Japan in 2011. Hasegawa admitted the Asian group followed ACUNS lead in establishing agenda for discussion in the past and called for more Asian participants to join and voice more actively their views and opinions at ACUNS Seoul conference and contribute more to the management of ACUNS.
 12:30 pm – 2:00 pm  LUNCH BREAK
 2:00 pm – 3:30 pm   WORKSHOP PANELS: SESSION I
 4:00 pm – 5:30 pm  PLENARY II
The Role of the UN in the Future of the Korean Peninsula
Moderator: Thomas Biersteker, Curt Gasteyger Professor of International Security and Conflict Studies, The Graduate Institute, Geneva
Panelists: Toshiya Hoshino, Professor, Osaka UniversitySung-han Kim, Professor and Dean, Graduate School of International Studies, Korea UniversityXuexian Wang, Former Deputy Director-General, Department of International Organizations and Conferences, Ministry of Foreign Affairs; Former Deputy Permanent Representative of China to the United Nations; Former Ambassador to South Africa
 In his presentation, Professor Hoshino explained the impact of possible North Korean missile attacks on Japan.
 6:00 pm – 8:00 pm  WELCOME RECEPTION
Hosted by Kihak Sung, Chairperson and CEO of Youngone Corporation
FRIDAY, JUNE 16, 2017
 9:00 am – 10:30 am  PLENARY III
Protection and Promotion of Human Rights in Humanitarian Crises
Moderator: Eunsook Chung, Senior Research Fellow, Sejong Institute
Panelists: Mely Caballero-Anthony, Associate Professor, Nanyang Technological UniversityMarzuki Darusman, UN Commission on Human Rights in North KoreaAi Kihara-Hunt, Associate Professor, University of TokyoKurt Mills, Professor, University of Dundee
 Professor Kihara-Hunt presented the result of her research that UN police officers commit serious crimes, but mostly while not on duty. Whether officers commit crimes appears to be linked more to their personal integrity than their functions. In the main, they are not being called to account. In addition, the UN is not effective in generating information fit for use in criminal proceedings. However, the laws on jurisdiction and immunity do not constitute legal barriers to accountability, although immunity poses some problems in practice. The principal problem appears to be the lack of political will to bring prosecutions. The finding that States, and arguably the UN, have an obligation to investigate and prosecute crimes may encourage prosecution.
 10:30 am – 11:00 am  COFFEE BREAK
 11:00 am – 12:30 pm  WORKSHOP PANELS: SESSION II
 12:30 pm – 2:00 pm  LUNCH BREAK
 2:00 pm – 3:30 pm  JOHN W. HOLMES MEMORIAL LECTURE
"A Pivotal Moment in Global Governance? Looking Back to Look Forward"
Margaret P. Karns, Visiting Professor, Center on Governance and Sustainability, University of Massachusetts Boston; Professor Emeritus, University of Dayton
 4:00 pm – 5:30 pm  PLENARY IV
Agenda 2030 – Achieving Progress towards the SDGs
Moderator: Otto Spijkers, University Lecturer, Utrecht University School of Law
Panelists: Stephen Browne, Co-founder, Future UN Development System; Visiting Lecturer, Graduate Institute GenevaModesto Seara Vazquez, Rector, Oaxaca State University SystemHaibin Zhang, Professor, School of International Studies, Director of the Center for International Organization Studies, Peking University
  6:00 pm – 8:00 pm  DINNER
Sponsored by Korean Ministry of Foreign Affairs
SATURDAY, JUNE 17, 2017
 9:00 am – 10:30 am  WORKSHOP PANELS: SESSION III
 10:30 am – 11:00 am  COFFEE BREAK
 11:00 am – 12:30 pm  PLENARY V
Agenda for the New Secretary-General
Moderator: Ingvild Bode, Lecturer, University of Kent
Panelists: Karin Abbor-Svensson, Programme Manager for 'Hammarskjöld's Legacy', Dag Hammarskjöld FoundationJoon Oh, Professor, Kyung Hee University; Former Ambassador, Republic of KoreaFrancesco Mancini, Assistant Dean and Visiting Associate Professor, National University of SingaporeSebastian von Einsiedel, Director, UN University – Centre for Policy Research
 12:30 pm – 1:00pm  CLOSING REMARKS
Kyu-dok Hong, President of KACUNS; Professor, Sookmyung Women's UniversityLorraine Elliott, Chair, ACUNS; Professor, Australian National UniversityRoger Coate, Paul D. Coverdell Professor of Public Policy, Georgia College; Distinguished Professor Emeritus, University of South Carolina
---
WORKSHOP PANELS: SESSION I
Thursday, June 15 2:00 pm – 3:30 pm
Panel 1–1Comparative Analysis of the Peace-Continuum: Linking Relief, Recovery, and Conflict Prevention
Moderator: Chigumi Kawaguchi, Research Fellow, JICA Research Institute
Panelists: Hiromu Miyashita, Research Associate, Waseda University (Humanitarian Assistance after the World Humanitarian Summit)Yukako Sakabe Tanaka, Research Associate, Waseda University (Should the 'Continuum' for Peacebuilding Focus on Development or Conflict Prevention?: The Case of Timor-Leste)Ryoji Tateyama, Emeritus Professor, National Defense Academy of Japan (The Syrian Civil War: Politicization of Crisis and Challenges and Dilemmas for Humanitarian Response)
Panel 1–2Prevention as the Priority for Revitalizing the UN
Moderator: Heung-Soon Park, Professor, Sun Moon University
Panelists: Tadanori Inomata, Visiting Professor, United Nations University for the Institute for Advanced Study of Sustainability (Promoting Culture of Prevention – Ensuring Necessary Resources and Management Capacities)Michiko Kuroda, Visiting Professor, Mercy College (Conflict Prevention – Operational Perspectives)Sumihiro Kuyama, Board Member, UNA-Japan (Reviewing the Norms and Practices on Conflict Prevention)
Discussant: Tatsuro Kunugi, Board Member, UNA-Japan; Deputy Representative, Earth Charter Japan Committee
Panel 1-3The Role of NGOs for Supporting Human Rights Activists/Writers in North Korea
Moderator: Hee Youn Do, Representative, Toward Happy Unification
Panelists: Goo Yong Lee, Representative, KL Management (North Korean Human Rights Viewed from the Viewpoint of Literature)Kwang Jin Kim, Research Commissioner, Institute for National Security Strategy (Accusation of Bandi and Problems of the International Community)
Panel 1–4Building Peace: Actors, Issues, and Strategies Peacekeeping as a Response to Human Security Threats
 (*These presentations have been supported as part of the Korea Working Group for Human Security of the Meridian 180 project.)
Moderator: Antonietta Elia, Senior Lecturer in Law, University of Santiago
Panelists: Brendan Howe, Professor, Ewha Womans University (Normative Constraints in Peacekeeping)Boris Kondoch, Professor, Far East University (Legal Challenges to UN Peacekeeping Operations)Otto Spijkers, University Lecturer of Public International Law, Utrecht University (Accountability and Immunity of Peacekeepers)
Panel 1–5UN Security Council Reform: Reform and Representation
Moderator: Mary Farrell, Professor, Plymouth University
Panelists: Khushboo Chauhan, Doctoral Candidate, Jawaharlal Nehru University (The United Nations Security Council and Reforming the Power to Veto: The Discrepancy between International Law and International Politics with Special Reference to Genocides)Rafael Cunha, PhD Candidate, Escola de Comando e Estado-Maior (The new global governance and regional representativeness in the United Nations Security Council – an Asian and Latin American comparative approach)Thomas Doerfler, JSPS-UNU Postdoctoral Fellow, Centre for Policy Research, UN University (The Changing Global Order and the (Informal) Reform of the Security Council)
Panel 1–6Security, Human Rights, and North Korea
Moderator: TBC
Panelists: Yujin Jung, Graduate Candidate and Research Assistant, Hanyang University (The Feministic Approach of UN's Humanitarian Aid Toward North Korea: Focusing on Gender- Sensitive Perspective)Brian Kim, Student Affiliate, East West Center and Yeseul Woo, Vasey Fellow, CSIS Pacific Forum (North Korean Human Rights Ought to be a Security Concern)Keira Koroma, MAGG Student, Balsillie School of International Affairs (Different Forms of Civil Society: The Link Between Koreas)Shahr-Yar Mahmoud Sharei, Executive Director, Center for UN Constitutional Research (North Korean Nuclear Disarmament and the United Nations Charter: Fit for Purpose?)
Panel 1–7The Role of International Society for Providing Development Assistance: How to Improve North Korean People's Life Standard and Human Rights
Moderator: Chang Rok Seo, Professor, Korea University
Panelists: Katrin Maurer, Graduate Student, Sookmyung Women's University (The Role of German Political Foundations in North Korea: Building Bridges to Pyeongyang)Jinsuk Byun, Professor, College of Law, Sookmyung Women's University (Environmental Issues of North Korea)Yoo-Jin Rhee, Research Fellow, Korea Development Bank (North Korea's Economic Development in the Perspective of Improving North Korean People's Life Standard and Human Rights)
Discussants: Hubert Younghwan Lee, Executive Director, Transitional Justice Working GroupTae Eun Min, Research Fellow, Korea Institute for National Unification
Panel 1–8UN and Coping with Threats from Terrorism and Extremists
Moderator: Ambassador In-kook Park, President, Korea Foundation for Advanced Studies
Panelists: Hyeong-wook Boo, Research Fellow, Korean Institute for Defense Analysis (Terrorism Prevention Capacity Building; S. Korea's Experience and Multi-national Cooperation)Intaek Han, Research Fellow, Jeju Peace Institute (Faces of Terrorism: A Statistical Exploration)Juri Kim, Researcher, Ewha Institute of Social Sciences (Global Efforts for Counter-Terrorism: Far from Perfect Harmony)Jeongmin Seo, Professor, Hankuk University of Foreign Studies (Push and Pull Factors of Extremism in Korea and the Middle East)
Panel 1–9The Protection of Rights of Overseas Labor/Global Compact
Moderator: Ambassador Sukbum Park, Secretary General, UN Global Compact Network Korea